A NASA spacecraft has officially "touched" the sun, plunging through the unexplored solar atmosphere known as the corona.
Scientists announced the news Tuesday during a meeting of the American Geophysical Union.
The Parker Solar Probe actually flew through the corona in April during the spacecraft's eighth close approach to the sun. Scientists said it took a few months to get the data back and then several more months to confirm.
"Fascinatingly exciting," said project scientist Nour Raouafi of Johns Hopkins University.
Launched in 2018, Parker was 8 million miles (13 million kilometers) from the center of the sun when it first crossed the jagged, uneven boundary between the solar atmosphere and outgoing solar wind. The spacecraft dipped in and out of the corona at least three times, each a smooth transition, according to scientists.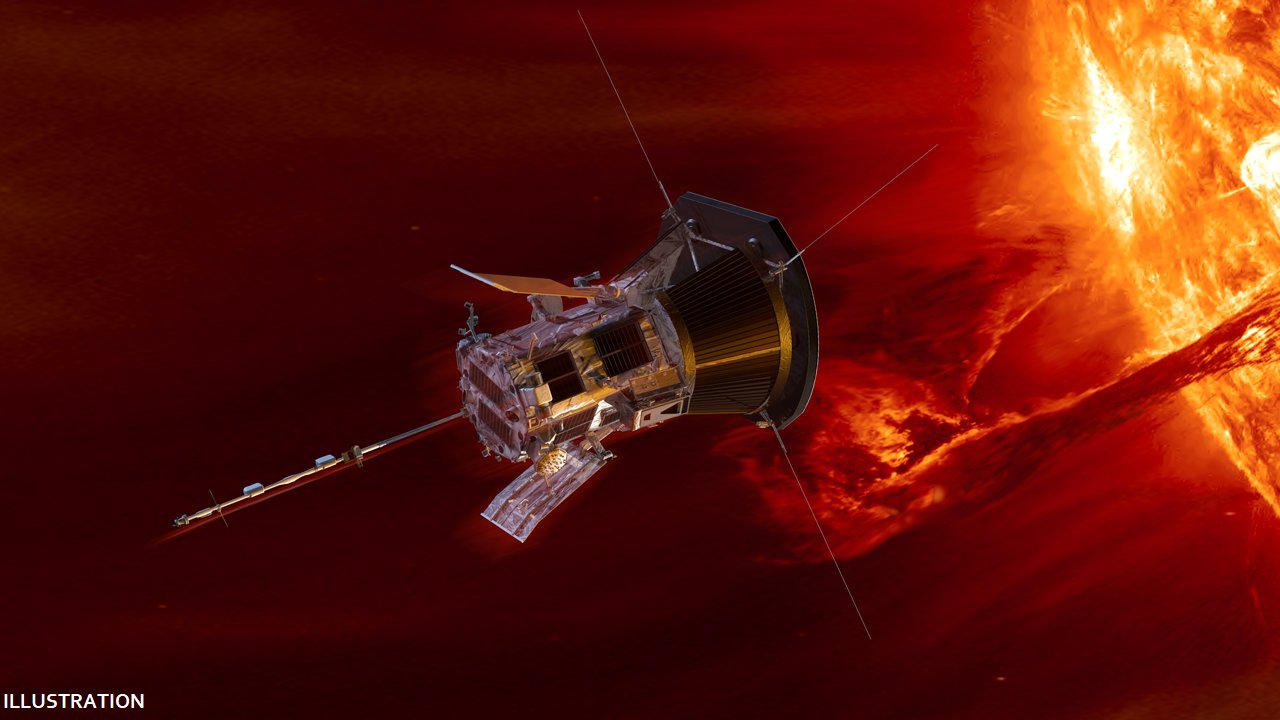 "The first and most dramatic time we were below for about five hours… Now you might think five hours, that doesn't sound big," the University of Michigan's Justin Kasper told reporters. But he noted that Parker was moving so fast it covered a vast distance during that time, tearing along at more than 62 miles (100 kilometers) per second.
The corona appeared dustier than expected, according to Raouafi. Future coronal excursions will help scientist better understand the origin of the solar wind, he said, and how it is heated and accelerated out into space. Because the sun lacks a solid surface, the corona is where the action is; exploring this magnetically intense region up close can help scientists better understand solar outbursts that can interfere with life here on Earth.
🔥 Hot off the press! 🔥
We've touched the Sun! 👉☀️ Parker Solar Probe has now flown through the Sun's upper atmosphere, the corona. Flying so close is revealing new things about our star, like where features called switchbacks are born. Learn more: https://t.co/Eaq0CJXvu1 pic.twitter.com/TTB3TPbPFe

— NASA Sun & Space (@NASASun) December 14, 2021
Preliminary data suggest Parker also dipped into the corona during its ninth close approach in August, but scientists said more analyzes are needed. It made its 10th close approach last month.
Parker will keep drawing ever closer to the sun and diving deeper into the corona until its grand finale orbit in 2025.
The latest findings were also published by the American Physical Society.
"Apple" amaze everyone with a "coffin" car without windows
Media sources revealed what the car that everyone is waiting for, which is the promising "Apple" electric car, might look like.
The sources pointed out that the "Apple Car" obtained a new patent due to the placement of virtual screens inside instead of clear windows.
According to the report published in the "Daily Mail", the technology giant has filed a patent for a virtual reality (VR) vehicle system that matches "virtual views" with the physical movement of the vehicle as it travels and moves.
The patent indicates that the chairs in the car will move to match the visual images, providing an experience similar to attending a "4DX" cinema.
This means that real landscapes that may be picturesque will be completely replaced by virtual graphics.
Initial images of the waiting car were circulated, in which it appeared somewhat similar to the company's control mouse (mouse) in terms of aerodynamics, as some mocked it and compared it to a "coffin".
The company has been developing "Apple Car" for a decade, but there is no word on when it will be officially revealed.
TikTok plans big push into gaming, conducting tests in Vietnam
TikTok has been conducting tests so users can play games on its video-sharing app in Vietnam, part of plans for a major push into gaming, four people familiar with the matter said.
Featuring games on its platform would boost advertising revenue as well as the amount of time users spend on the app – one of the world's most popular with more than 1 billion monthly active users.
Boasting a tech-savvy population with 70% of its citizens under the age of 35, Vietnam is an attractive market for social media platforms such as TikTok, Meta Platforms Inc's Facebook and Alphabet Inc's YouTube and Google.
TikTok, which is owned by China's ByteDance, also plans to roll out gaming more widely in Southeast Asia, the people said. That move could come as early as the third quarter, said two of them.
The sources declined to be identified as the information has yet to be publicly disclosed.
A TikTok representative said the company has tested bringing HTML5 games, a common form of minigame, to its app through tie-ups with third-party game developers and studios such as Zynga Inc. But it declined to comment on its plans for Vietnam or its broader gaming ambitions.
"We're always looking at ways to enrich our platform and regularly test new features and integrations that bring value to our community," the representative said in an emailed statement to Reuters.
ByteDance did not respond to a request for comment.
Reuters was not able to learn TikTok's plans for rolling out gaming features in other markets. Although TikTok users can watch games being streamed, in most regions they are not able to play games within the TikTok app.
In the United States, only a few games appear to have been launched including Zynga's "Disco Loco 3D", a music and dance challenge game and "Garden of Good", where players grow vegetables to trigger donations by TikTok to the non-profit Feeding America.
According to two sources, TikTok plans to draw primarily on ByteDance's suite of games.
While the company will start with minigames, which tend to have simple game play mechanisms and a short playing time, its gaming ambitions extend beyond that, said one of the people who had direct knowledge of the matter.
TikTok will require a licence to feature games on its platform in Vietnam where authorities restrict games depicting gambling, violence, and sexual content. The process is expected to go smoothly as the games planned are not controversial, the person said.
Vietnam's foreign and communications ministries did not respond to requests for comment.
Users of ByteDance's Douyin, the Chinese version of TikTok, have been able to play games on the platform since 2019.
TikTok's games are likely to carry advertisements from the start, with revenue split between ByteDance and game developers, a separate source said.
TikTok's foray into games mirrors similar efforts made by major tech firms seeking to retain users. Facebook launched Instant Games in 2016 and streaming firm Netflix also recently added games to its platform.
It also marks the latest ByteDance effort to establish itself as a major contender in gaming. It acquired Shanghai-based gaming studio Moonton Technology last year, putting it in direct competition with Tencent, China's biggest gaming firm.
Even without gaming, TikTok has seen advertising revenue surge. Its advertising revenue is likely to triple this year to more than $11 billion, exceeding the combined sales of Twitter Inc and Snap Inc, according to research firm Insider Intelligence.
Germany boosts monitoring of Facebook's Meta
Germany's anti-cartel watchdog said Wednesday it has placed Meta, the company which owns Facebook, WhatsApp and Instagram, under close watch for any possible abuse.
The Federal Cartel Office said it has determined Meta to be a company of "paramount significance for competition," a move paving the way for the authorities to clamp down "against potential competition infringements."