Donatella Versace pumped energy into Milan Fashion week with a star-studded runway and guest list — with the likes of US-Palestinian model Gigi Hadid and British-Albanian pop superstar Dua Lipa hitting the catwalk in a number of sultry looks.
https://www.instagram.com/tv/CUOb-crDDVx/?utm_source=ig_web_copy_link
The collection was strong on the fashion house's identifying markers: Bright colors, safety pins and lusciously silky foulards.
https://www.instagram.com/p/CUO9hpnK0Y_/?utm_source=ig_web_copy_link
British singer and emerging fashion icon Dua Lipa opened the runway show in a skin-baring black suit held together with colored safety pins as her song "Physical" blasted through the venue and closed it in a liquidy fuchsia skirt and corset.
In between, she was joined by Naomi Campbell, brightly clad in a hot-pink suit and orange shirt, Gigi Hadid in a snug latex black dress with just a silky flash of turquoise and pink, and Madonna's daughter Lourdes Leon Ciccone, in a metallic silvery dress.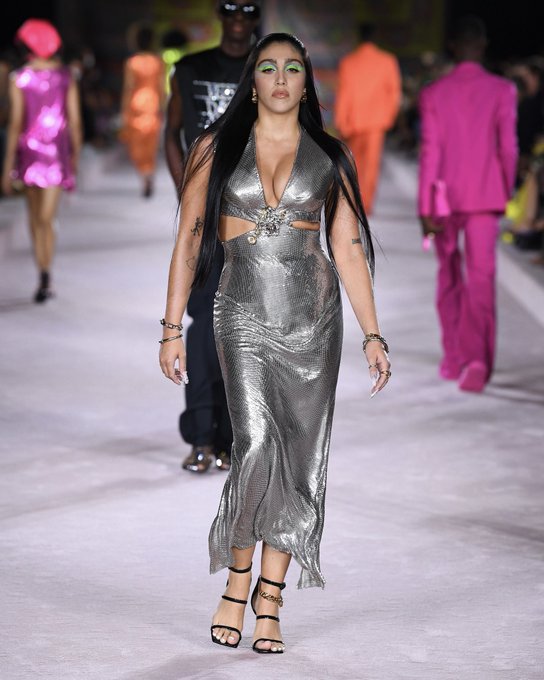 Black suits and dresses with tiny flashes of color in pins and foulards that peeked from hemlines and slits formed the beginning of the show. Toward the end, the colors grew ever more bold until they burst into a vivid palette of pink, aquamarine, seafoam green, acid green and yellow.
https://www.instagram.com/p/CUOv01qqRWU/?utm_source=ig_web_copy_link
"The foulard is a fundamental component of Versace's heritage and character," Versace said in the show notes. "This season (it) turns everything on its head, it is no longer fluid or dreamy, the scarf is provocative, sexy, wound tight."
https://www.instagram.com/p/CUOWeKQIoH3/?utm_source=ig_web_copy_link
Menswear was more relaxed, with floral suits, sportier varsity jackets with mesh tops, or bright leather jackets paired with tight T-shirts and jeans.
https://www.instagram.com/p/CUQGvT7oFyx/?utm_source=ig_web_copy_link
Front-row guests at the show included Milan's own fashion influencer-turned-entrepreneur Chiara Ferragni and her husband, the singer Fedez, US influencer-turned-actress Addison Rae and actress Bella Thorne with her Italian beau, singer Benjamin Mascolo.
Meanwhile, Italian fashion house Prada returned to the live runway for the first time since February 2020, when the creative partnership between Miuccia Prada and Raf Simons was announced.
The collection was dotted with trains, corsets and evening gowns as Simons bemoaned the "irreality" of an evening gown "however beautiful," as many gowns have spent the pandemic hanging in closets.
"These clothes can become complicated — evening dresses, historical costume. We want to make it uncomplicated, easy, that feels modern," Simons said.
Jennifer Lopez's Marry Me wedding dress weighed 95 pounds
Jennifer Lopez's wedding dress in Marry Me weighed 95 pounds (43 kilograms).
In the new romantic comedy, the superstar portrays Kat Valdez, a pop star who decides to marry a stranger, as played by Owen Wilson, after learning that her on-stage partner Bastian (Maluma) has been having an affair.
For one of the film's most important scenes, Lopez donned a heavily embellished Zuhair Murad bridal gown.
"(The beading) made it extremely heavy," costume designer Caroline Duncan told Variety. "The dress weighed 95 pounds and required five people to transport it and an entourage to get Jennifer in and out of it, but it gave the dress that volume."
And while the wedding dress was stunning, Duncan insisted that it symbolised so much more for Lopez's character.
"First, you see her get into the car, and it's a symbol of how that wedding had gotten too big, and it wasn't honest and has taken over her ability to see who she was marrying," the design guru continued. "Later, you see her in the bedroom alone on what should have been her wedding night, and here she is trapped in this claustrophobic dress that's like the concert – bigger than she is. It's the loneliest shot in the movie."
Marry Me, directed by Kat Coiro, is now showing in US cinemas.
Actor Timothee Chalamet, designer Haider Ackermann create hoodies to help Afghan women
US actor Timothee Chalamet has partnered with Colombian-born French fashion designer Haider Ackermann to design hoodies to help children and women in Afghanistan.
The pair revealed on Instagram on Wednesday that all profits from the sweatshirts will go to Afghanistan Libre, a nonprofit organization that fights for the rights of women and girls in the country.
"For a couple of years now @tchalamet and I have been wanting to make something together," Ackermann, who spent years of his childhood in Algeria, wrote on Instagram. "In August, we were horrified to learn of the ongoing humanitarian crisis in Afghanistan and decided to design a hoodie where 100 percent of the proceeds will go to @afghanistanlibre."
https://www.instagram.com/p/CXzEjNvLJIY/?utm_source=ig_web_copy_link
The white sweatshirts feature a picture of a young child in a blue paint splatter design with text that reads "Silent Soldier" and "HA+TC A Common Thread," referring to Chalamet and Ackermann's initials.
Priyanka Chopra embraces Moroccan talent in Dubai
Actress Priyanka Chopra Jonas has a well-documented penchant for Arab designers. The Indian star has been pictured donning looks from regional labels on plenty of occasions, including designs by Zuhair Murad and Nicolas Jebran, to name a few.
Just days after celebrating Diwali in Los Angeles with her husband, singer Nick Jonas, the former Miss World touched down in Dubai this week. She announced her visit on Instagram with a video of the city's skyline, which she captioned "so happy to be back."
The reason for her visit was to attend the launch of Italian luxury brand Bulgari's latest "Jannah" collection. For the occasion, Chopra, who is a Bulgari ambassador, opted for a striking, saffron-colored design from sustainable Moroccan couture house Benchellal.
The orange air mesh blazer dress featured a draped shawl cape and pockets and was plucked from the label's ninth collection. She wore it with slim-fitting black trousers and pumps.
Naturally, the actress accessorized the head-turning look with Bulgari jewels.
https://www.instagram.com/p/CWBsaJ2LKZh/?utm_source=ig_web_copy_link
The ensemble was put together by celebrity stylist Law Roach, who is responsible for some of Zendaya and Kerry Washington's most iconic outfits. In an Instagram post, she thanked Roach for "recognizing incredible talent from the world," for her.
Indeed, Dutch-Moroccan couturier Mohamed Benchellal, who launched his namesake womenswear label in 2007, has made a name for himself with his elegant and upcycled eveningwear.
His striking, structural designs have been worn by popstar Camilla Cabello, actress and activist Jameela Jamil and supermodel Helena Christensen, to name a few.
The Moroccan-born, Amsterdam-based designer recently took home the eveningwear award at the 2021 Fashion Trust Arabia Prize ceremony for his dramatic, voluminous creations.
Arab designers have increasingly become the "go-to" for Indian celebrities at major events.
Ami Patel, one of India's leading celebrity stylists, previously explained Bollywood's love affair with Middle Eastern design talent to Arab News, saying: "I think Middle Eastern designers understand the Indian body type and silhouette very well. They know exactly what Indian celebrities want and cater to them."