Ben Affleck And Jennifer Lopez Make Their Relationship Official On Red Carpet In Venice
Jennifer Lopez & Ben Affleck stole the show as they walked the red carpet at Venice Film Festival together. The couple finally made their relationship official.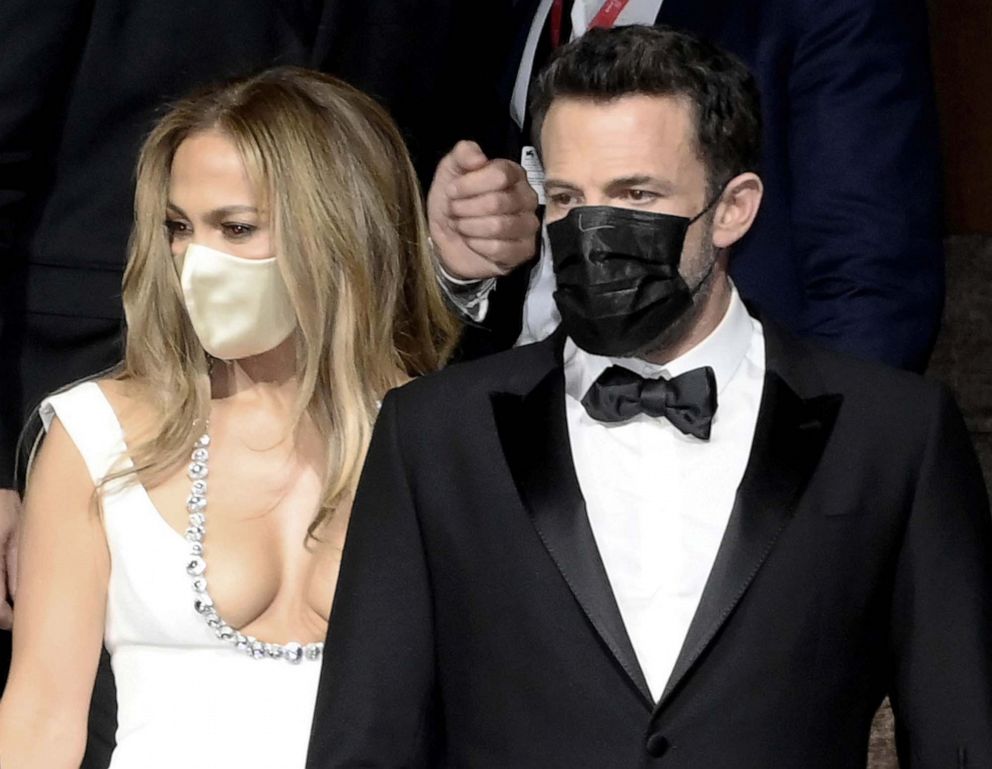 Ben Affleck and Jennifer Lopez have been making headlines ever since the two got back together after 17 long years. From kissing on yachts to holding hands in public, the two were in the limelight amid their dating speculations. However, the couple finally chose the Venice Film Festival red carpet to make their relationship official.
Bennifer back on the red carpet: Jennifer Lopez and Ben Affleck walk at the #VeniceFilmFestival premiere of "The Last Duel." pic.twitter.com/L8DiAYvzDW

— AP Entertainment (@APEntertainment) September 10, 2021
Jennifer Lopez and Ben Affleck stole the show as they walked the red carpet at Venice Film Festival together. The couple were seen hugging and kissing each other as they walked down the carpet. Affleck helped JLo come out from a black car as they arrived at the venue. JLo wore a Georges Hobeika's white mermaid gown with a plunging neckline and a thigh-high slit. Ben Affleck donned a black Dolce & Gabbana tuxedo with a bowtie. The couple were there for the screening of Ben Affleck's film The Last Duel.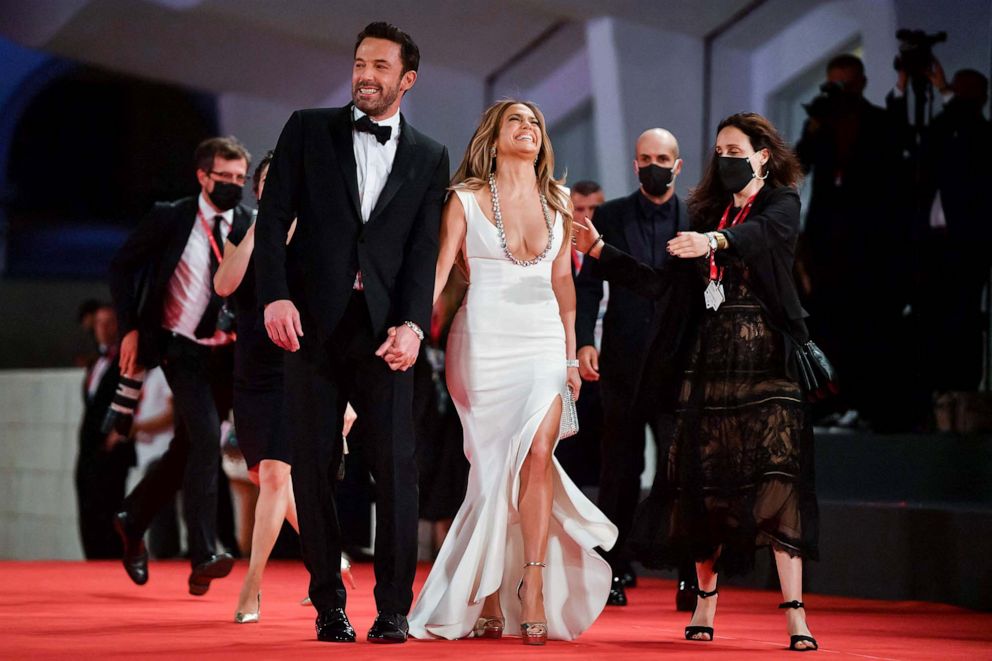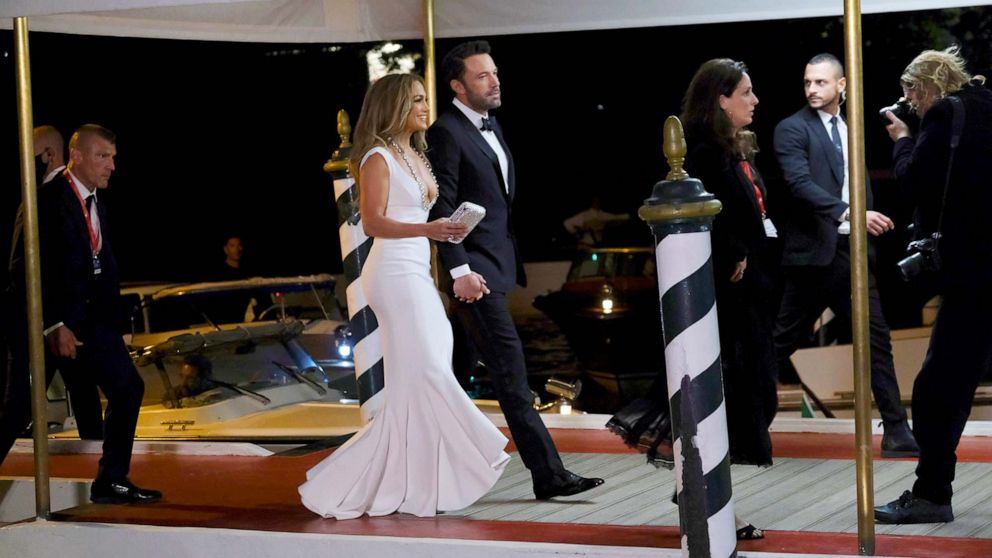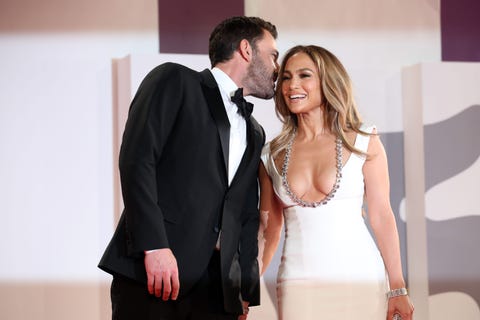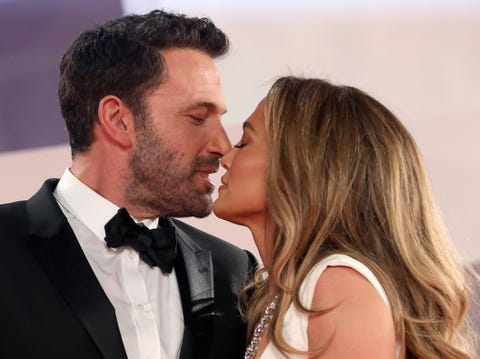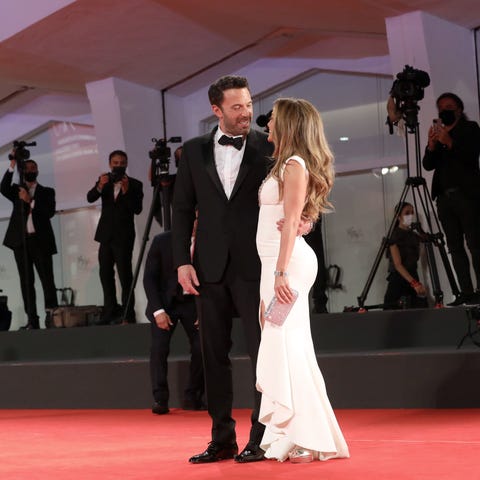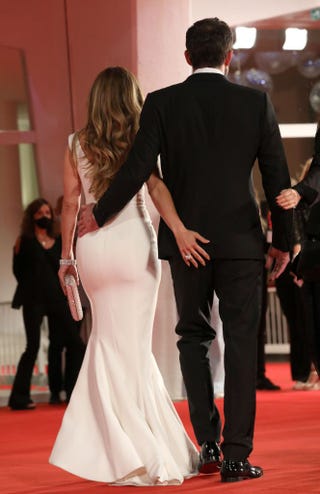 https://www.instagram.com/p/CTp6qPMhnr2/?utm_source=ig_web_copy_link
Affleck and JLo were last seen smooching on a yacht on the singer's 52nd birthday. The couple almost made their relationship Instagram official with a loved up photo from their outing. JLo shared several snaps from her birthday which ultimately had a photo of the two of them kissing. Jennifer Lopez and Ben Affleck came back together in May 2021 after their final breakup in 2004. The couple got separated from their respective partners earlier this year. While Affleck parted ways with his girlfriend Ana de Armas in January, JLo announced her breakup from Alex Rodriguez a few months later.
Jennifer Lopez and Ben Affleck first met on the sets of Gigli in 2001. The couple soon began seeing each other in 2002. After a year, they even got engaged but called it off in January 2004. The couple started dating again after 17 years and made headlines in no time. As per People, the couple is doing everything to make their relationship work. They are often papped while walking and holding hands. Matt Damon, who has reunited with Affleck in The Last Duel, also once spoke about the couple relationship. The actor called the couple grat and said he just wanted their happiness.
Adele apology: Full statement as singer postpones Las Vegas shows at last minute
British pop superstar Adele has posted a tearful message on social media reluctantly announcing the postponement of her upcoming Las Vegas residency.
"Weekends with Adele", a series of Friday and Saturday night concerts at The Colosseum at Caesar's Palace Hotel was due to begin on Friday 21 January and run until Saturday 16 April, but the singer explained to fans that her show was simply not ready in time, having been hit by "delivery delays and Covid". Her announcement was made just hours before the first show was due to begin.
Adele posted a video on social media and talked about the cancellations.
https://www.instagram.com/tv/CY-AYtZAgp-/?utm_source=ig_web_copy_link
"Hiya, listen I'm so sorry but my show ain't ready.
"We've tried absolutely everything that we can to pull it together in time and for it to be good enough for you but we've been absolutely destroyed by delivery delays and Covid.
"Half my crew, half my team are down with Covid, they still are, and it's been impossible to finish the show… and I can't give you what I have right now and I'm gutted, I'm gutted, and I'm sorry it's the last minute.
"We've been awake for over 30 hours now trying to figure it out… We've run out of time and I'm so upset and I'm really embarrassed and I'm so sorry to everyone that's travelled again. I'm really, really sorry, I'm really sorry.
"We're on it. We're going to reschedule all of the dates. We're on it right now and I'm going to finish my show and I'm going get it to where it's supposed to be.
"I'm so, so sorry. It's been impossible. We've been up against so much and it just ain't ready. I'm really sorry… sorry."
Adele promised to reschedule the performances, which would have seen her join such greats as Frank Sinatra, Celine Dion and Britney Spears in playing the Nevada gambling Mecca, but the last-minute nature of the decision has angered fans, some of whom were already en route to catch her opening night.
"It's my birthday and I am on an airplane right now using the last of my vacation time for a whole year to see you along with some non-refundable deposits and a week of babysitting… I'm sad you couldn't decide this until the last minute," one ticket-holder wrote on Twitter.
Adele was tipped to make £500,000 per night from the concerts, with tickets officially on sale from £60 to £500 but going for as much as £22,000 on resale websites.
Pamela Anderson files for divorce from bodyguard Dan Hayhurst
Pamela Anderson has reportedly filed for divorce from bodyguard Dan Hayhurst.
A source close to the couple shared the news with Rolling Stone and described their short-lived romance as a "pandemic whirlwind".
"Pamela loves as authentically as she lives," the source added.
The two began dating in September 2020 and three months later tied the knot at the Baywatch star's Vancouver Island home on Christmas Eve.
Anderson, 54, reportedly filed for divorce in Canada, where they had been living, but is currently spending time with her sons at her home in Malibu, California.
Hayhurst is the actress' fifth husband. Anderson married her first husband, Tommy Lee, in 1995 and they share two sons – Brandon, 25, and Dylan, 24. Their relationship is the basis for the upcoming Hulu series Pam & Tommy, starring Lily James and Sebastian Stan.
After Lee, she was married to musician Kid Rock for four months in 2006, poker player Rick Salomon from 2007 to 2008 and again from 2014 to 2015, and producer Jon Peters for 12 days in January 2020.
Steve Harvey about photo of daughter Lori with Michael B Jordan: 'I'm very uncomfortable'
Steve Harvey was left "very uncomfortable" after being shown a picture of his daughter Lori and Michael B Jordan getting close.
Model Lori has been dating the Creed star since November 2020, with Jordan spending his second Christmas at the Harvey household last month.
Appearing on The Ellen DeGeneres Show on Tuesday (18 January), Family Feud host Steve was presented with a picture of his daughter sat in her boyfriend's house over the festive period.
I accidentally showed @IAmSteveHarvey a picture of his daughter with @MichaelB4Jordan that he hadn't seen before. pic.twitter.com/4zrlFbA0Mv

— Ellen DeGeneres (@TheEllenShow) January 18, 2022
"Look at that," DeGeneres said to Steve. "That's happening in front of you?"
Fidgeting, the TV presenter responded: "I've never seen that picture before.
"I'm very uncomfortable with that picture right there," he added, while laughing. "I'm not really feeling that picture."
Discussing spending Christmas with Jordan, Steve admitted that he was a fan of the actor.
"That boy come through," he said. "He [is] trying to impress the family. I'm a father, so he bought me this big 100 cigar box of the most hard-to-get cigars. 100 of them in this big box and he gave that to me."
Steve continued: "He gave my wife some skis. Who do that? Only way you give your potential mother-in-law some skis is because you want her to be your mother-in-law."